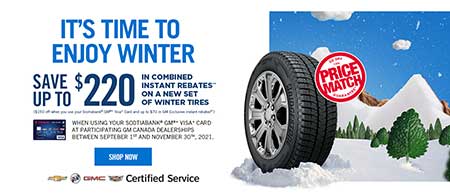 It's Time for Winter Tires!
That chill in the air mean it's time to think about winter tires. Visit our service area to see the latest offers on winter tires, including rebates of up to $70 on a set of four tires. You can also get an instant $150 rebate when you use your GM ScotiaBank Visa card!
See below for information on Tire Storage and MPI's Winter Tire Program
Tire Storage
Clear out some space in your garage. Gauthier Buick GMC offers tire storage services. For $75 per season, your tires will be securely stored on our site.
MPI Winter Tire Program
Ask us about the MPI Winter Tire Program - you may qualify for a low-interest loan from Manitoba Public Insurance for the purchase of approved winter tires. 
Under this program, Manitoba drivers can receive up to $2000 per vehicle financed at a rate of prime plus 2%. This loan can be paid back over a term of one to four years.
Gauthier Cadillac is a participating retailer in this program. Our service staff can assist you in completing the steps required.
For complete information on this program please click here.